HEC designs and manufactures heavy duty Electric Over Head (EOT) cranes for application in Steel Plant, Engineering sector, Space Research etc. The highest capacity crane designed & manufactured so far is 450 T Ladle Crane for handling hot liquid metal.
Typical EOT Cranes:
EOT Cranes for workshops and engineering sector up to 400 t capacity
Ladle Crane for handling Hot metal Ladles in Steel and metallurgical plant up to 450 t
Rotating Trolley Crane
Tundish Handling Crane
Magnet Grab Crane
Slab handling Tong Crane for steel plant application
Four girder double Trolley semi portal Scrap Charging Crane
Cantilever Roof mounted Tower Crane
Special Features:
Digital AC Vector Drive for smooth control and creep speed
Regenerative Active Front End (AFE) Converters for energy efficient operation
Interface to automation systems eg. Coil Yard management system
Planetary Gear system for continuous hoisting & lowering at half speed in case of failure of one drive system
Double wire rope, double upper Block and double bottom pulley block system to facilitate emergency hoist operation without tilting the load in case of failure of one rope system/one pulley system
Emergency Braking system on Hoist Rope Drum to prevent free fall of load
AC operators cabin and electrical panel room.
Weighing system with VHF communication to ground station
Anti collision system
Radio remote control
Automatic Track and wire rope lubrication system
Supplies made to:
Bharat Heavy Electricals Limited, Hardwar
Bhilai Steel Plant
Tata Iron & Steel Co., Jamshedpur
Bokaro Steel Limited, Bokaro Steel City, Bokaro
Visakhapatnam Steel Project, Visakhapatnam
Bhilai Steel Plant, Bhilai
Jayant Coal Handling Plant, Northern Coal Fields Ltd., Jayant
Durgapur Steel Plant, Durgapur
Rourkela Steel Plant, Rourkela
Isro, Sriharikota
Konark Met Coke Limited
Tamil Nadu Electricity Board
Neelachal Ispat Nigam Limited
Tiazhpromexport Moscow For Bulgaria
TSVETMETPROMEXPORT, Moscow For Cuba
Capacity-wise Break up:
| | |
| --- | --- |
| Capacity | Nos. |
| Up to 50 t | 102 |
| 50 t to 100 t | 113 |
| 100 t to 200 t | 83 |
| 250 t | 3 |
| 320 t | 4 |
| 400 t | 1 |
| 450 t | 7 |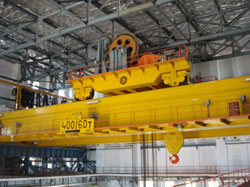 Capacity: 400 /60 T, Span : 32 M installed at a height of 46 M to handle GSLV and PSLV at ISRO, Sriharikota.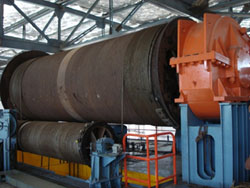 Hoist Drum of diameter 3.3 M and length 7.5 M weighing 35 T.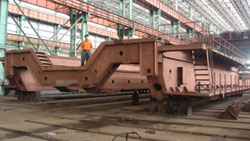 Fabrication of 4 Girder Ladle Crane (180 T capacity).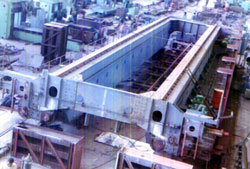 450 T capacity Ladle crane in Assembly Line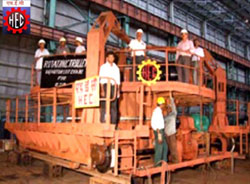 Assembly of Rotating Trolley of a 25 T and 33 M span EOT Crane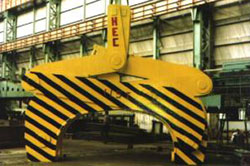 18 T Capacity Tong